Conferences & Meetings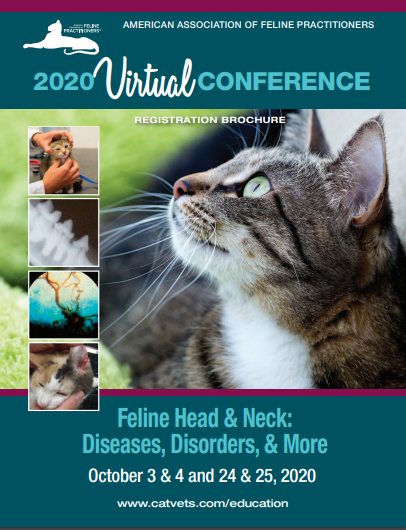 View Virtual Conference Platform
Join the AAFP on October 3 and 4, and then again on October 24 and 25 for a fully virtual conference experience. The conference format is designed to provide for shorter days than would be in person and take place over the course of two weekends. This gives you the opportunity to space out the time spent on your computer, make sure you have adequate time to process all of the information from the first weekend, and provide additional time to access the on-demand content. All content will be available on demand until December 31, 2020, so even if you cannot attend one or more of these days, you will still be able to access the educational content and other offerings.
The conference will continue to focus on exploring diseases and disorders of the feline head and neck which include exploring a myriad of feline health conditions affecting systems of the head and neck, including neurology, dermatology, ophthalmology, dentistry, respiratory, oncology, imaging, emergency and critical care, pain management, feeding tubes, and more.
We have created a robust and engaging virtual community experience that will redefine typical online educational offerings!
If you registered for the conference, you will receive an email the week before the conference with more information and a guide to the virtual platform.