2017 Conference Educational Program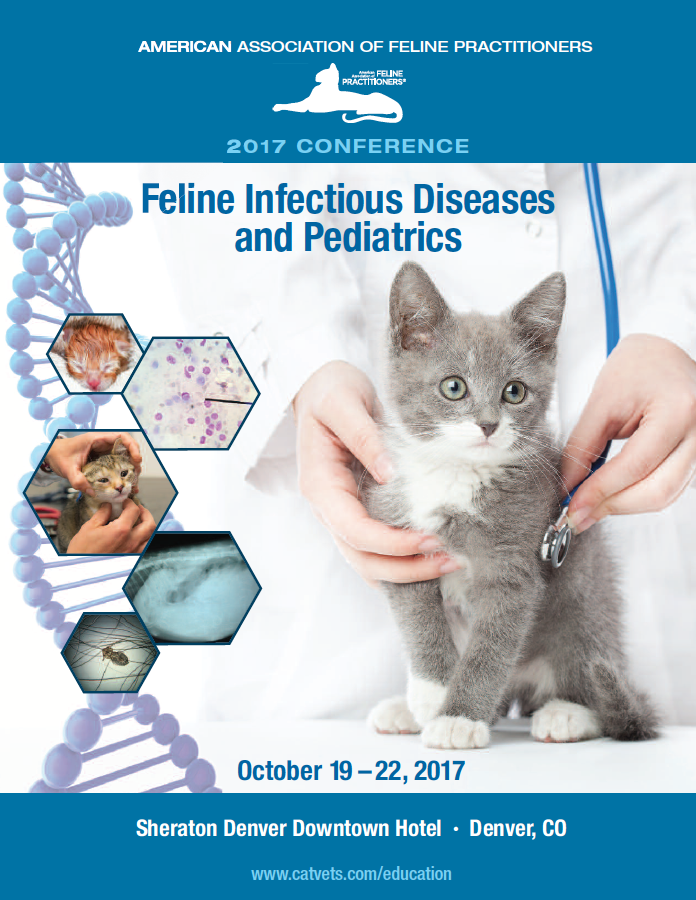 Come to Denver, CO and join colleagues from around the world as you increase your feline knowledge by attending presentations lead by experts in their fields. The AAFP is proud to offer an assortment of tracks to meet the individualized needs of attendees in the various stages of their professional development. This conference will join together veterinary healthcare professionals who are dedicated to increasing their feline knowledge and who are passionate about elevating the standard of care for cats.
Online registration for the 2017 AAFP Conference will open in June.
RACE Credits
The American Association of Veterinary State Boards (AAVSB) RACE committee has not yet approved this program as meeting the Standards adopted by the AAVSB. This program will be included on the AAVSB's Website once it is approved.
The program will be reviewed and approved by the AAVSB RACE committee for:
Number of Hours of CE for Veterinarians: up to 48.5 (maximum for one veterinarian: 31)
Number of Hours of CE for Veterinary Technicians: up to 48.5 (maximum for one veterinary technician: 31)
Please contact the AAVSB RACE program at [email protected] should you have any comments/concerns regarding this program's validity or relevancy to the veterinary profession OR contact the AAFP Headquarters for further information at [email protected].
*Note: Participants should be aware that some boards have limitations on the number of hours accepted in certain categories and/or restrictions on certain methods of delivery of continuing education. Contact the AAFP Headquarters for further information at [email protected].
NY State CE
The New York State Board of Veterinary Medicine has approved the AAFP as a sponsor of continuing education for veterinarians and veterinary technicians.
CE Credits
Pre-conference Day:
Thursday, October 19, 2017 – Up to 8.5 CE Hours
General Session:
Friday, October 20, 2017 – Up to 7.5 CE Hours
Saturday, October 21, 2017 – Up to 8.5 CE Hours
Sunday, October 22, 2017 – Up to 6.5 CE Hours