American Association of Feline Practitioners
Our members are the bedrock of our Association. Despite the many obstacles 2020 presented, our dedicated leadership, volunteers, and staff were able to focus on providing exceptional value to our diverse membership. This report showcases the breadth of our work and summarizes the activities, programs, and advancements made, as well as the American Association of Feline Practitioners' forthcoming goals and objectives.
Our strategic goals remain our focal point, however, we were able to make adjustments this past year in order to concentrate on providing our members, the veterinary community, and cat caregivers with the education and support they needed to navigate these uncharted circumstances. In 2021, we will continue to focus on the goals in our strategic plan by transitioning the way in which we develop, communicate, and deliver programs and services. Our dedicated board, volunteers, and headquarters staff have been essential in putting our vision into action and making the changes necessary to drive results.
Strategic Goals:
Veterinary Professionals Utilize the AAFP to Access Resources and Education
Members are Strongly Connected to and Engaged with AAFP
AAFP is Successful in Educating Cat Caregivers on the Value of Cats and Feline Care
AAFP has Strong Relationships with Industry and Organizational Partners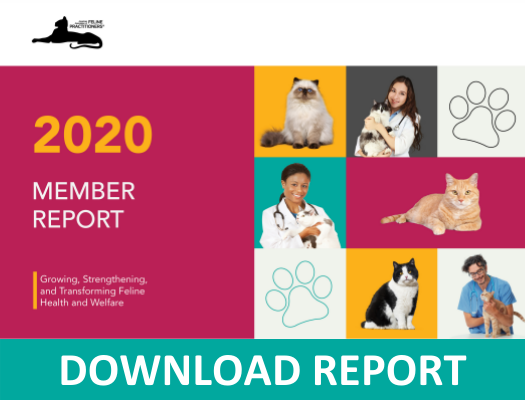 This report highlights our feline-forward initiatives in 2020 which elevated the standards of feline care. Also provided are clear areas of opportunity that we will focus on as we expand our resources for enhancing the care for cats.
We are hitting the ground running in 2021 by developing new programs, services, and educational efforts. We are developing new Educational Toolkits including End of Life and Hypertension, launching Life Stage Guidelines and Senior Care Guidelines, and beginning development of FIP Part 1 Guidelines (Diagnosis, Prevention, and Management) and Feline-Friendly Handling Guidelines Updates. In addition, we are planning a Spring into Feline Medicine eConference series, hybrid Annual Conference in the fall, expanding our Cat Friendly Practice® Program and Cat Friendly Certificate Program, launching new live and on-demand webinars free to members, and will continue to provide amazing opportunities to our members and the veterinary community throughout the year.
We're excited about the future of feline care and are proud to call you our member.